Introduction by Faisal Hourani
Mamdouh Nofal narrates the events of Autumn 1986 in Lebanon, when the worst rounds of fighting took place in and around the Palestinian camps. The book focuses on the occupation of the Lebanese town of Maghdouche by Palestinian forces. The writer seeks to explain the motivations that led up to the occupation of a town whose population had done no harm to the Palestinians. In the process, we find before us a narrative that tells of what happened in Lebanon from 1968 and onwards, ever since the emergence of Palestinian armed formations in the country, along with the events and persons who featured in these developments.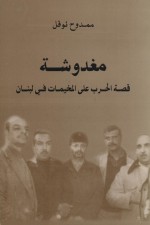 Raw memories and fresh wounds, some forgiven and others not, some perpetrated by adversaries and others self-inflicted. The book makes no pretensions, as the narrator tells it all, the haunting and the pleasing, the good and the ugly, and all that falls somewhere in between. Before us are those who made the events and those who witnessed them, presented without exaggeration and without sugarcoating.